Awaken your inner expert. Live a Healthy Life.
Our 12 weeks weight/insulin resistance management program  improves your well-being physically, emotionally and mentally. Our program members benefit from:
6 to 12 kg weight loss through reducing body fat %
Inch loss from waist
Freedom from restrictive dieting
Increased energy
Improved immunity
Improved physical health – body pain, acidity, headaches, insomnia, irregular periods, acne

Reduction in cardiac risk

Reverse fatty liver

know more about our Type 2 Diabetes Reversal program
Our program is led by a licensed medical professional and endocrinologist, Dr. Roshani Sanghani, and our team of experts is dedicated to providing the highest level of care and support to help our clients achieve their weight loss goals.
Real transformations, Real Stories
Weight loss and more with sustainable lifestyle change
I was recommended to undergo Bariatric Surgery in August'22 because of obesity related health problems such as high BP, Obstructive Sleep Apnea, Fatty liver and Fatigue. Taking up Dr. Roshani's weight loss and insulin resistance reversal program came highly recommended from a doctor. I was ready to do anything to avoid surgery.
I learnt about cravings, why they happen, how to control them and also how it is okay to give in to them with awareness! I learnt to fast from 16 to 24, then 36, 72 and finally 120 hours! Not out of sheer will power but preparation, correct nutrition on eating days and precautions on fasting days!
In three months I was never asked about how much weight I lost. Rather I saw for myself that my pain reduced, overall swelling reduced, blood reports show improvement in liver health, cardiac health, pre-diabetes has been reversed, inflammation has reduced and this is only the beginning. Unlike diet plans that end, I've learnt to take charge and create a sustainable lifestyle!
It is December'22, I began this year low and disheartened but thanks to Dr. Roshani and team, I'm ending it on a high!
- Dhaval
Reversed multiple health issues!
I have gained a great deal of knowledge about nutrition and fasting. As a result, many of my physical complaints have greatly decreased. I have come to understand the importance of incorporating protein and reducing carbohydrates in my diet, which has greatly aided me in maintaining a healthy eating regimen. Additionally, some of my hormonal imbalances have been reversed. I am optimistic that the rest of my health concerns will be addressed as I continue on my weight loss journey. I am grateful to Dr. Roshani and her team for their exceptional work in assisting individuals in reversing their health issues.
- Beulah
Weight loss
Over the last 15 years, I had steadily gained weight. It just slowly crept up - and never went down despite going to dieticians who asked me to eat 6-8 small meals a day. I had accepted mental defeat and believed that I was predisposed to gaining weight (blamed it on my genes) and that I couldn't do anything about it. A friend of mine recommended Dr Roshani and I signed up.
The biggest change is that there has been a paradigm shift in the way I approach my weight loss. I have lost more than 12 kgs of weight and I have gained a lot more confidence in being able to make a change, to doing something for myself. I no longer huff when I walk up steep slopes or climb steps. I have an abundance of energy. Mental fortitude has been a big win for me. I am still on my journey...but so thankful to have the Aasaan team to guide me along the way.
- Deepal
Extremely professional and approachable
Dr. Roshani and her team are extremely professional and approachable. Her work helped me become self-sustainable. She helped me understand my mind and body and their role in my overall well-being. I have struggled with health and weight issues for more than 12 years and for the first time I truly believe that I am closer to having better health. Feeling extremely grateful to have encountered her and empowered because of consulting her.
- Radhika
Truly transformational and sustainable
This program has been a great learning experience for me. Dr.Roshani and team have immense knowledge and they helped me bring about the much needed change in attitude towards food, health and most importantly, towards self care and well being.
Their prompt responses to all my questions were very helpful. With their guidance, I was able to empower myself to make better food choices that are sustainable. Even after the program I have been able to maintain a healthy lifestyle with ease.
Thank you, Dr.Roshani and team for your valuable support and help in bringing about this transformation.
- Sonal
Frequently asked questions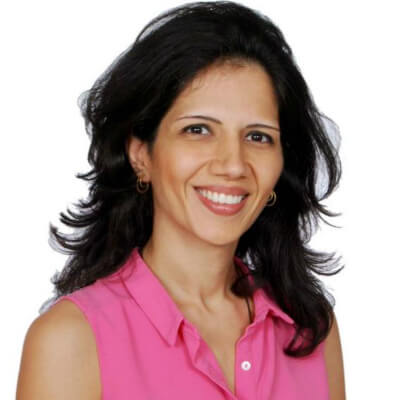 About Dr. Roshani Sanghani
Dr Roshani Sanghani is American Board Certified in Internal Medicine, Endocrinology, Diabetes, and Metabolism. With over 15 years of experience, Dr. Sanghani has established herself as a leading expert in hormone balance and a super specialist in diabetes, obesity, and weight management. She is also a member of the Society of Metabolic Health Practitioners (SMHP), which highlights her commitment to providing the best care to her patients.
Dr. Sanghani's passion for evidence-based medicine and commitment to improving the quality of care is evident in her work. Her specialty in endocrinology and diabetes makes her a highly sought-after physician, and she has been invited to lecture at various medical events in India and internationally on these topics. Dr. Sanghani uses a personalized approach that focuses on lifestyle interventions, education, motivation, and empowerment to help her patients make informed choices and achieve better health with less medications.